How it works...
Process credit cards and ACH with your choice of merchant services on a one-time or recurring basis and keep your billing secure with a built-in PCI Level 1 compliant vault.
Verosa Online offers businesses a powerful and intuitive payment processing solution. Our cloud-based platform allows users to access their accounts from anywhere—making single and multiple customer billing a breeze. QuickBooks Online is what makes your department run. Now, we make it run better.
Our solution live posts to QuickBooks with what we call a two-way sync. This means that our integration is in constant contact with your account, and vice versa. At Verosa, our mission is to create intuitive, feature-rich integrations, fully supported by a staff of friendly and knowledgeable technicians.
We understand that your business is unique. And because of that, Verosa Online is available to you through both full-package and Lite editions, to scale to your business needs.
Process ACH and Credit Cards:

Bill one-at-a-time or in batches from cards saved on file. Do it in style, with a processor of your choice. Memorized transactions available with full version of Verosa Online.

Email Invoicing:

Send your invoices with the power of email and get paid with the full version of Verosa Online. Customize templates to strengthen your brand!

Live Posting:

Make your receivables workflow easy—all transactions, voids, and invoices post automatically to QuickBooks via a two-way sync. What you see in Verosa Online, you'll see in your QuickBooks account, and vice versa.
The Best Compliment for QuickBooks Online
Learn more about the features that set Verosa Online apart from all other payment processing tools.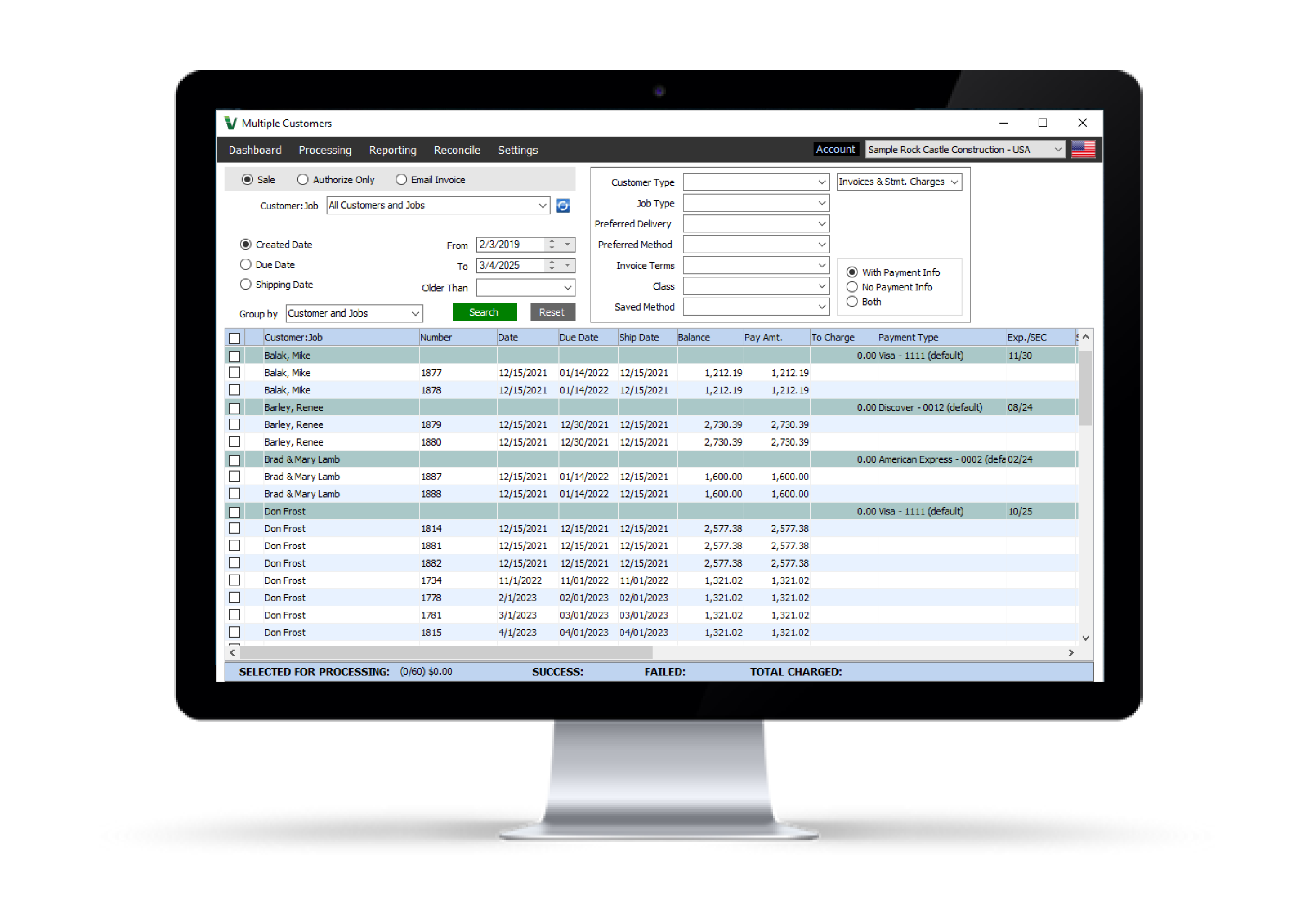 Multiple User Accounts:

Free from Intuit's limits! Verosa Online allows you as many user accounts as you need—without purchasing additional profiles from Intuit.

Do it all from Verosa:

You don't need a cluttered screen to work with us. Email invoices straight from Verosa.

EMV integration:

Optimize your storefront with our EMV integration and accept credit cards directly from the source with the full version of Verosa Online. Available as an add-on with Verosa Lite.
Features and Benefits
Accept, process, pay, or deposit Credit Card and ACH payments
Two-way sync with QuickBooks Online
Email invoicing
Supports multiple user profiles
Secure tokenization technology with point-to-point encryption
Reprocess corrected ACH rejections/returns
Comprehensive customization option
Record customer deposits and send credit memos
EMV integration
---
Frequently Asked Questions
We aim to be easy to work with. For us, that means transparency. Verosa does not charge per transaction. You'll only pay a one-time configuration and application fee alongside your monthly subscription price.
Absolutely not, our two-way sync means that transaction information entered in QuickBooks is synced automatically to Verosa. This works the other way too. Most customers choose to use our Verosa Online portal to manage and send their invoices. Either way, it'll be saved to your books.
Verosa is a PCI compliant business. For existing customers, Verosa can migrate over payment data. For new customers though, all payment information will have to be entered by the merchant, or otherwise imported by Verosa. After the initial entry of card data though, it will be saved on file in our PCI compliant vault.
The beauty of Verosa Online is that it allows you to bring over your own preferred payment processor. We do not process payments ourselves, but we're happy to work with whoever you like best.