How it works...
Merchants need cost effective solutions for processing their customers' credit cards and checks. Now, they can process transactions and Payment Terminal for QuickBooks POS provides them the freedom to work with any merchant services provider they want. Merchants will not be tied to using Intuit for their credit card processing, giving them the choice to work with the merchant processor that best suits their business.
Ease of use is also important. When merchants accept cash or check as payment, there are no differences as to how make a sale. With Payment Terminal for QuickBooks POS, merchants will be able to process credit cards by keyed, swiped, or EMV entry with a supported gateway. There are no changes as to how business is handled with customers who use cash or checks. When a sales transaction is complete, merchants can print receipts for customers' and their records. If for any reason a receipt needs to be reprinted, that is also an option. Returning items and issuing refunds are additional features when using Payment Terminal.
*To receive a reduced rate, the merchant account must be set up to receive these types of transactions.
Easy to use:

With only small changes in the screens they use daily, merchants will be trained and using the software in minutes.

Accept Credit Cards:

Basic integration allows merchants to swipe or manually key in credit card transactions.

EMV Chip Reader Support:

Using an EMV add-on and a supported gateway, businesses can accept more secure EMV credit card transactions.
More Efficent Payment
Processing for QuickBooks
Experience the benefits of integrated solutions that enable merchants to streamline their businesses.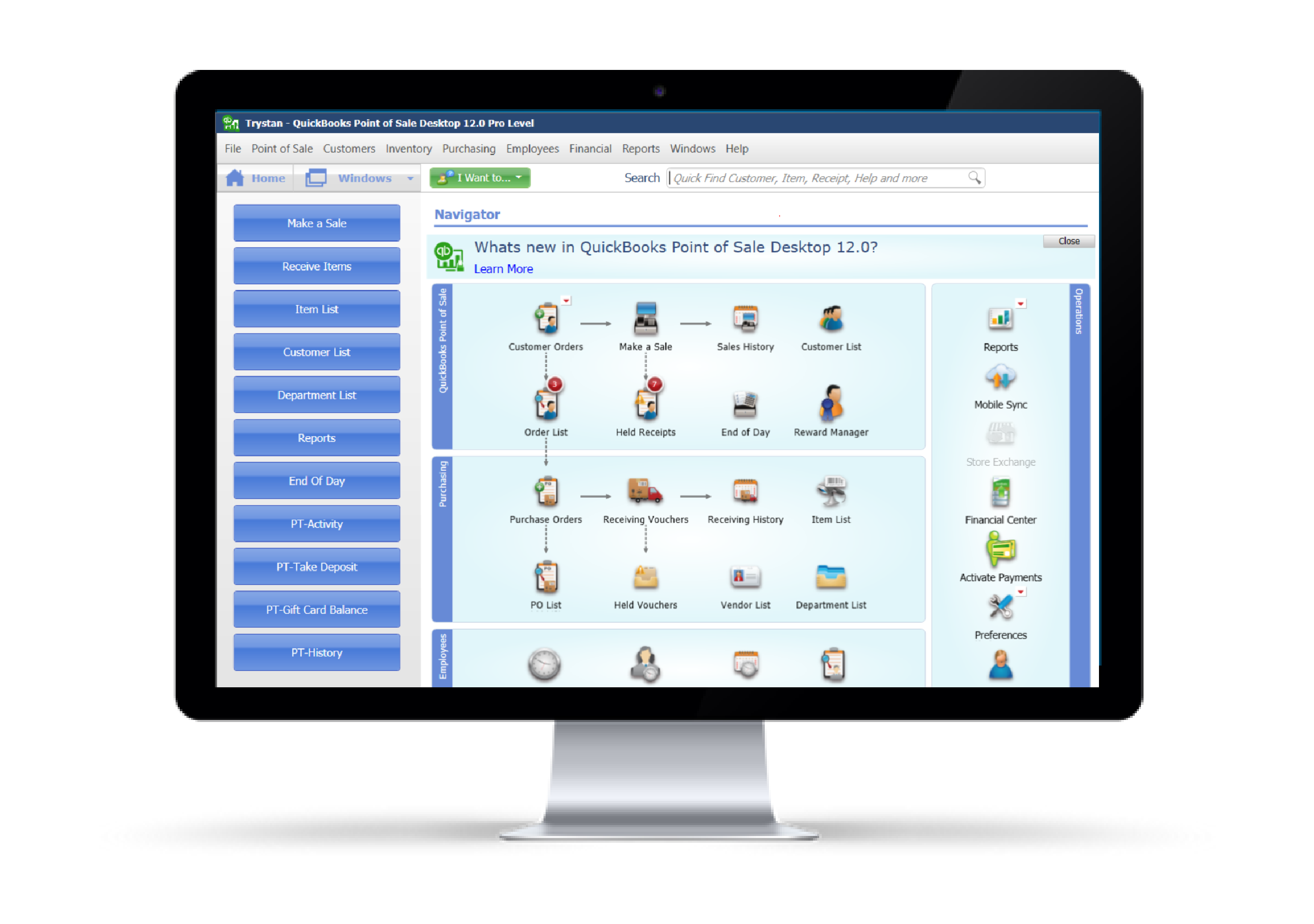 Gift Card Option:

The Gift Card option allows businesses to port over any existing gift cards and their balances into our system allowing merchants to honor and provide new gift cards to their clients.

Dedicated Support Team:

A support team with merchants in mind. Questions, concerns, or issues will be addressed as fast as possible by industry experts.

Increase PCI Compliance:

The PCI Compliant vault system enables secure storage of credit cards and checking information for all customers at no additional cost to the merchant.
Features and Benefits
Only small changes in the screens merchants use daily
Adaptive way to handle deposits on Sales Orders, Layaways, or Work Orders
Admin page for Gift Card system to help manage gift cards
Freedom to choose processors
Print receipts for sales transactions
Process credit cards in real-time
ACH/EFT transactions processed in real-time
Immediate posting of the payments in QuickBooks®
Phone or email support available Monday - Saturday
---
Frequently Asked Questions
The software itself will not change how your client does their end of day or z out report. If they are using an attached EMV/ Chip Reader then hey may need to check with their provider for when the terminal itself will batch out so they can compare the two.
The Payment Terminal for QuickBooks POS does have a few screens that may look slightly different but overall the workflow will be very similar. We strive to help merchants get through each sale quickly and accurately. We provide a few new ways to review sales so businesses will be able to keep track of everything on the go.
If merchants can provide a balance report, also known as a liability report, then we can upload them into our system. This allows merchants to use their own cards and gives them the freedom to purchase new cards from any provider they like.
Verosa offers a support team that can answer questions about the integration, processing questions, or get merchants connected to a team to help with that specific problem. We have support Monday through Friday 7:00 AM PST to 4:00 PM PST. We also have emergency support available on Saturday 7:00 AM PST to 11:00 AM PST.