How it works...
Payment Terminal for Financial QuickBooks is an effective tool for any business. It provides easy to use functionality that allows for quick and efficient processing. To do this, Payment Terminal provides two major processing screens: Single Customer and Multiple Customer. Single customer is designed to allow businesses to process one invoice, or many invoices at once, for a single client. Multiple Customer is designed for batch billing, allowing merchants to select a group of clients and as many invoices per client to all be processed at once. Both screens live post successful transactions directly back into the connected company file.
With a built-in PCI Level 1 compliant vault, merchants will be able to save as much information on file per client as needed. Multiple cards, ACH, and their respective billing information is kept safe and secure. When it's time to bill a customer, simply select the client, pick the customer's payment method, and process.
Businesses should get their work done the right way, the first time. There is a dedicated support team to help clients navigate processing errors, provide training, help with non-server installations of our software, or simply answer any questions clients may have. Our goal is to assist you, and your merchant to make sure their company thrives.
Credit Card and ACH Processing:

This can be done either one client at a time or multiple clients in one go, and can use information saved on file.

Live Posting for Successful Transactions:

Take the hassle out of running sales. Merchants select what they need, process and complete transactions with the confidence the records they need will be back in QuickBooks right away.

Detailed Reporting:

Generate reports that merchants need.
The Best Compliment for QuickBooks Financial
Learn more about the features that set Verosa apart from all other payment processing tools.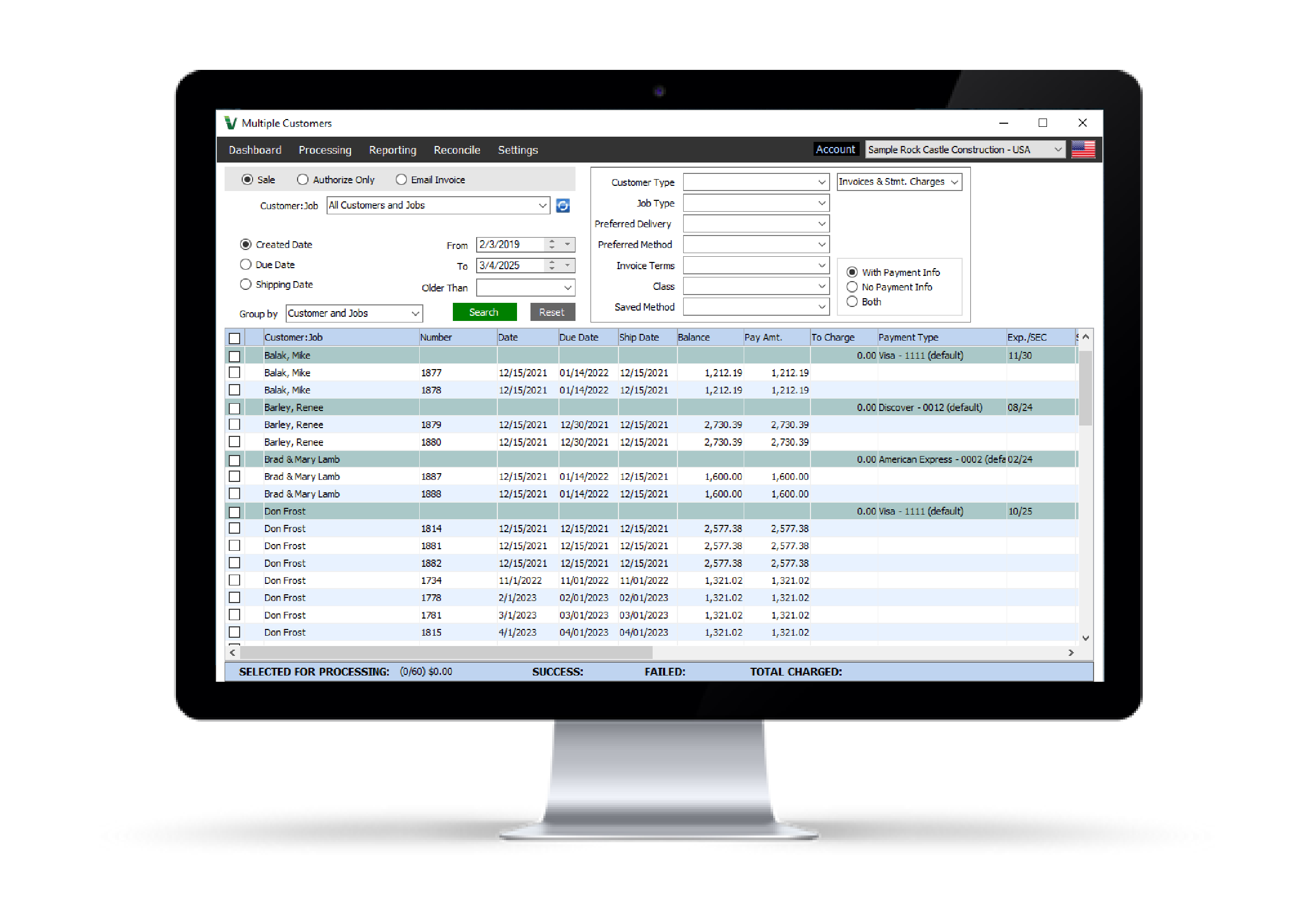 Authorize Now/Settle Later:

With this add-on feature merchants can pre-authorize a sale to allow funds to be held in limbo so a job can be started. The transaction can be later settled, capturing the funds.

Email Invoicing:

Using this add-on grants the ability to email out invoices and allow them to be paid by the client. Includes the option to add their merchant's company logo and billing information.

Detailed Payment Log:

A support team with merchants in mind. The Verosa team works diligently to make sure that client questions, concerns, or issues are all addressed as fast as possible. Work with a support team that understands processing.
Features and Benefits
Accept, process, pay, deposit, void, or refund Credit Card and ACH payments
Secure tokenization technology with point-to-point encryption
Issue one-time payments and recurring Credit Card and ACH payments
Quickly add, edit, view, and re-submit payments
Reinitiate corrected ACH rejections/returns
Issue voids and refunds
Record customer deposits and send credit memos
Comprehensive customization option
Void or refund customer payments
---
Frequently Asked Questions
The Payment Terminal for Financial QuickBooks is designed for merchants to process transactions quickly and efficiently. We provide several ways to complete transactions to help fit multiple needs. Single Customer and Multiple customer screen to run card information and a built-in PCI level 1 compliant vault to store Credit Card or ACH information for recurring use. There are even add-ons to cover emailing invoices out to clients for payment and pre-authorizing sales upfront and capturing them later.
Our software helps eliminate double entry. We will automatically post successful transactions directly back into the attached company file. This makes sure that merchants can use the software in real time across multiple users with ease. Verosa brings, not only a versatile processing tool to businesses, but also our wealth of knowledge. Clients have direct access to a team of agents dedicated to keeping businesses processing smoothly.
Merchants can keep as many credit cards or ACH accounts on file as they need. You can also save unique billing information alongside each record. This means no more chasing down card information or having to keep records onsite to process sales again.
Payment Terminal is compatible with any Microsoft Windows version of Financial QuickBooks 2010 or newer. No 3rd party software can interface with QuickBooks for Mac version. If the merchant is running a virtual Windows environment with software, such as Parallels or VMware Fusion, it is possible to integrate if they have a Windows based Financial QuickBooks.
Download and Install
Pre-Installation Instructions
REQUIRED: Update Windows to .NET Framework 4.5 & the latest Security Patches
Make sure QuickBooks is installed and up to date.
BACKUP your QuickBooks Company File.
Make sure you have "administrator rights" to your computer and QuickBooks®
Keep the "Plugin Credentials" available to enter into the Application Settings
PDF Instructions
Below are the downloading instructions for the Payment Terminal™ for QuickBooks®. There are 3 types of instructions to choose from: Installing, updating or uninstalling the Payment Terminal™ from your machine and QuickBooks®.
---
Payment Terminal Installer:
File Name:
Last Update:
File Select:
Payment Terminal 18.2.0.2
06/01/2018
Additional Files: